Affordable Portable Scoreboards
Call Us Toll Free (888) 456-1970

Football / Basketball / Soccer / Hockey
Lacrosse / Wrestling / Water Polo
Portable Scoreboard
PCK-4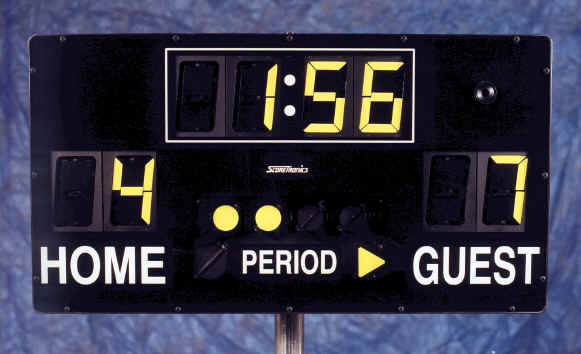 Features:

| | |
| --- | --- |
| | Completely portable. Intended to be stored away when not in use. |
| | Battery powered. No wiring or trenching. |
| | Batteries (AA alkaline, included) will last the entire season in normal use with no charging. |
| | Wireless RF full function remote control included. |
| | Easy setup at the game. Unit slips on and off a common 1-1/2" pipe. |
| | Flexible mounting. Can be pole mounted, wall mounted, tripod mounted, or placed on a tabletop. (See Details) |
| | Super bright high contrast displays are easily viewable by spectators. |
| | High impact water and dust resistant case. Scoreboard is designed to take a rain shower during the game. |
| | Size: 30" wide, 16" tall, 3" deep. Weight: 16 pounds. (Mounting location recommendations) |
| | User serviceable. All components plug in and out. Proudly made and supported in the USA. |
| | Displays: Four-digit clock, two two-digit scores, period (4 periods), and possession/penalty indicator. |
| | Horn: 108 decibels. Automatic at end of period or remote triggered. |
| | New! User Changeable Clock direction. Click for details |
| | Affordable! $1690 including the remote control. |


Full Function
Remote Control Included
(click for larger picture)



Options: Click here for options details and pricing.
Referee remote control. (palm sized remote control for controlling the clock functions) (click here for photo)

Sponsor panel. (flips down for storage)

Vinyl protective slip cover.

Indoor tripod.

Outdoor tripod.

Adapter Sleeve/Tabletop Steady Rest.

Soccer model (clock counts up, no horn).

AC powered.

Dual power.
Ordering Information and Shipping Rates (click here)
* Patent Pending
Information for Canadian Buyers
ScoreTronics Inc., Toll Free (888) 456-1970

ScoreTronics scoreboards are proudly made in the USA.

ScoreTronics Home Page | Get One at No Cost