Affordable Portable Scoreboards
Call Us Toll Free (888) 456-1970

Portable Tennis Scoreboard
PTN-4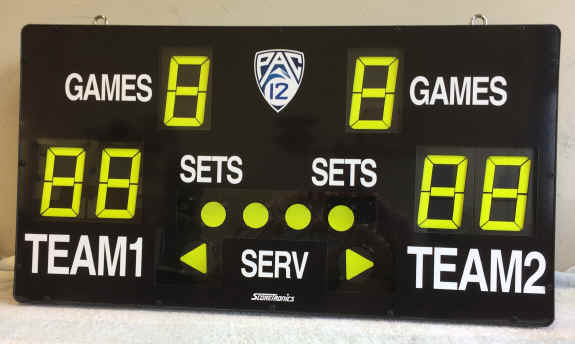 (PTN-4 shown with optional custom graphic and hanging eyes)

Features:

| | |
| --- | --- |
| | Completely portable. Set up on any court, any where. Can also be used for permanent applications. |
| | Battery powered. No wiring or extension cords. AC operation is also available. |
| | Batteries (AA alkaline, included) will last two to three years in normal use with NO CHARGING. |
| | Remote Control is completely wireless. Wireless RF full function remote control included. |

| | |
| --- | --- |
| | Easy, simple operation. Just hang the unit and hand the remote to the judge. The vast majority of people pick up the operation in less than a minute without instructions, but there are also instructions on the back of the remote. |
| | Flexible mounting. Can be pole mounted, wall mounted, tripod mounted, placed on a tabletop, or hung from a chain link fence. (See Details) |
| | Super bright high contrast displays are easily viewable by spectators. |
| | High impact water and dust resistant case. |
| | Size: 30" wide, 16" tall, 3" deep. Weight: 14 pounds. |
| | User serviceable. All components plug in and out. Proudly made and supported in the USA. |
| | Displays: Two two-digit points scores (can do advantage scoring (15, 30, 40, AI) or simple scoring (1-4), specify preference when ordering. Two single-digits for number of games won, two indicators on each side for sets won (for two of three), and serving indicator. The unit automatically handles tiebreaker scoring situations. |
| | Affordable! $1345 including the remote control. |


Remote Control Included
(Click for larger picture)



Options: Click here for options details and pricing.
Chain link fence hanging adapter.

Flat surface tripod (used indoors or outdoors on flat surfaces).

Outdoor Tripod (heavy duty, used on grass and uneven surfaces)

Adapter Sleeve/Tabletop Steady Rest.

AC powered. (AC only)

Dual powered (AC or Battery).

WiFi Interface for transmitting scoreboard results to monitors in the clubhouse, the media, or other devices.
* Patent Pending
Other Information about this model: This is our newest model, introduced in April 2017. It joins our broad line of economical made-in-USA remote controlled scoreboards that were first introduced in 1999. This model shares the display trait of all our scoreboard products of the unique use of electromagnetic digits and flip dots, which have outstanding visibility in all lighting conditions including direct sunlight, and without visual hotspots. (LED's are often too bright when head-on, and difficult to see when viewed off to the side). This electromagnetic display technology also uses a fraction of the power of LEDs, allowing unheard-of battery life and NO CHARGING. The first use of this tennis model was for a PAC-12 tennis tournament in April 2017, where 12 of these scoreboards performed flawlessly during a week-long tournament involving hundreds of matches. This custom developed scoreboard for the PAC-12 is now being offered to the public.

Ordering Information and Shipping Rates (Click here)
Information for Canadian Buyers
ScoreTronics Inc., Toll Free (888) 456-1970

ScoreTronics scoreboards are proudly made in the USA.

ScoreTronics Home Page | Get One at No Cost