Affordable Portable Scoreboards
Call Us Toll Free (888) 456-1970
Portable Race Clock/Timers
PRC Series
Ideal for 5K, 10K, Half Marathon, Full Marathon Races, and More!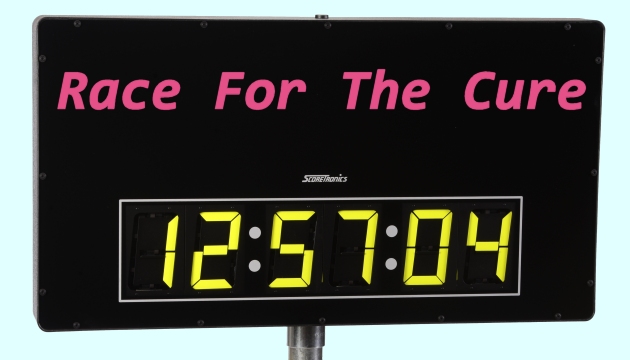 (six-digit / standard numbers model shown with example message graphic)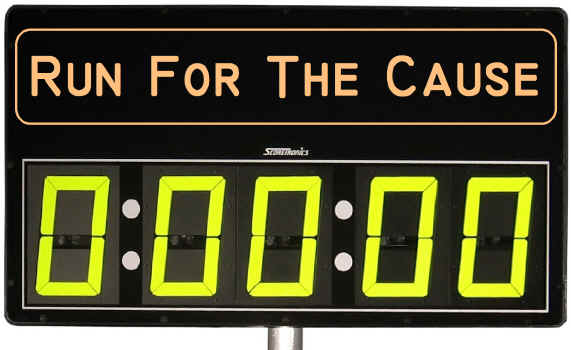 (five-digit / large numbers model shown with example message graphics)

Features:

Battery powered. Use it anywhere, with no wiring, extension cords, or generators. Options are also available for AC power, or both battery and AC.

Internal Batteries (alkaline, included) will run the unit for 55 hours with no charging. (100 hours on the PRC5-6!) Low battery indicator gives plenty of advance notice.

Super bright electromagnetic displays have FAR superior visibility than LED or LCD, especially in direct sunlight. Excellent, uniform visibility at all viewing angles, without hot spots and brightness drop off's of LEDs. Click here for details.

Wireless RF remote control included.

Easy setup at the event. Flexible mounting. Unit slips on and off a common 1-1/2" pipe or can hang. Tripods are available.

Simple to use! No programming required.

Large area (29" by 7-1/2") on front face available for sponsor sign or organization message. (29 x 6-1/2 on the PRC5-6) Custom graphics are available from local sign shops or through ScoreTronics partner for $25-$35.

High impact fully gasketed water and dust resistant case. Repels rain and weather.

Size: 30" wide, 16" tall, 3" deep. Weight: 14 pounds for the five-digit -4 model. (21 pounds for the PRC5-6)

User serviceable. All components plug in and out.

Displays: Five or six digits (H:MM:SS or HH:MM:SS). Displays on the -4 models are four inches tall and have a rated viewing distance of over 160 feet. Displays on the -6 models are six inches tall and have a rated viewing distance of over 240 feet.

Optional Horn: 108 decibels. Automatic at end of period in count down mode.

Timer can be changed to count down or count up.

In count down mode, unit remembers the last time setting, to allow quickly returning the clock to the same time for each run.

Affordable! All prices include the RF remote control.
$1075 five-digit 4" (H:MM:SS) Model PRC5-4
$1175 six-digit 4" (HH:MM:SS) Model PRC6-4
$1495 five-digit 6" (H:MM:SS) Model PRC5-6
$1375 four-digit 6" (MM:SS) Model PRC4-6

See our PTM series for four and three digit timers.


The PRC is proudly made and supported in the USA!



Remote Control Included
(click for larger picture)



Options: Click here for all options details and pricing
Ordering Information and Shipping Rates (Click here)
* Patent Pending
Information for Canadian Buyers
ScoreTronics Inc., Toll Free (888) 456-1970

ScoreTronics scoreboards and timers are proudly made in the USA.