Professional Wall Mounted
Circuit Training / Interval Training & Drill Timer
CDT-4
Programmable Model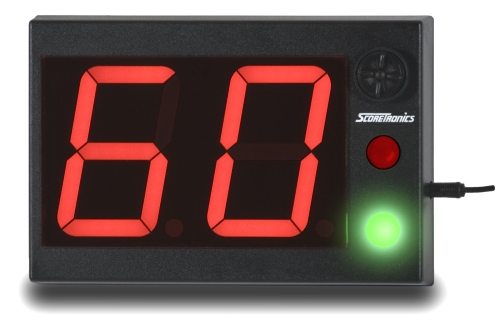 Features:

| | |
| --- | --- |
| | Interval Training/Circuit Training timer for sports training programs, including MMA. Times exercise periods and rest periods and sounds buzzer at the start and end of each time, providing visual and audible indications of the current activity, as well as number countdown. Also useful as a coaching aid, freeing up the staff to coach instead of having to watch a stop watch and sound a whistle during drills. Extremely useful in weight rooms for interval training/circuit training to keep athletes working and on pace. This model has the additional ability to count sets and stop if desired, or it can run continuously. Can also be used to countdown a single period and beep. |
| | Loud (up to 108 DB) horn/buzzer to signal the beginning and ending of exercise periods. Sounds once at the beginning of the exercise, and twice at the end of the exercise, same as "whistle starts". Optional softer chime sound available. |
| | Big, bright status lights show current activity. Green=Exercising, Red=Rest. |
| | Simple to use! Just plug it in and go. Very easy to set time periods. [i.e. two minutes green followed by 15 seconds red, or 15 seconds green followed by 6 seconds red]. Settings are stored/saved in the unit. |
| | Time periods: The unit has ten user-settable channels that can be set with different exercise and rest times that can be recalled with a single button. The times can be set using a range of 1-99 seconds, 0.1-9.9 minutes, or 1-99 minutes. |
| | Each channel is individually settable to count repetitions and stop (up to 99 reps), or to run continuously until stopped by the user. |
| | NEW! Channels can be "chained", to automatically advance to the next channel after the last repetition is complete. Allows for a complete regiment to be built, with varied timings and reps. |
| | When counting down in minutes or tenths of minutes, the display automatically switches to seconds countdown in the last minute. Great for those users who are watching the clock, just waiting for the particular activity to end. |
| | Large 4" tall LED digits for time countdown. Easy to see at 160 feet. Great for large or small rooms. |
| | Includes program for Tabata High Intensity Interval Training (HIIT). |
| | AC powered. Wall cube (AC adapter) with 4 foot cord supplied. |
| | Size: 9.5" wide by 6.3" tall by 1.4" deep. Hangs on the wall like a clock. |
| | Remote control is included. Operate from anywhere in the room. |
| | One year standard warranty. Quality long-life displays and components throughout. Proudly made and supported in USA. |
| | Price: $399, ready for use. |


Remote Control Included
(Click for larger picture)






Options:
Replacement remote control $25. (CLICK HERE TO ORDER REPLACEMENT REMOTE CONTROLS ONLINE).

Comes standard with extra loud buzzer. Softer chime sound is available instead at no charge.

DC Extension cable. 3 feet or 6 feet long $6/$8. Use if your AC wall outlet is farther than four feet from the CDT-4.

For shelf or tripod use, "L" shaped bracket to hold the CDT-4 upright on a shelf or table, also has 1/4-20 fitting to allow the use of a camera tripod. $35 Click here for pictures and details.

Three-sided hanging bracket. Hangs from the ceiling and holds three CDT-4's facing three directions. $200 Includes Master/Sync system described below. Click here for pictures of the bracket in use.

New! Master/Sync system. When two or more units are being used in a 2, 3, or 4 sided display, this system allows one unit to be the master and the other units to sync their displays, lights, and chimes to the master unit. The system also brings the remote control sensors from all the units in to the master so the remote control will work from any side. $15/timer when ordered with a new timer. Included for no charge with the three-sided hanging bracket above. The Master/Sync system can also be retrofitted to existing units--contact us for details.

Program chip update. Brings your earlier CDT up to the latest features (like switching to seconds in the last minute). Includes new program chip and instructions. $10

Custom programs. If you need a different timing sequence, for instance, a "chirp" from the beeper halfway through the exercising period to let exercisers know to change hands/arms/legs, custom programs of all kinds can be created. Simple variations can be done for as little as $50. Contact ScoreTronics with your requirements.
CDT-4 Shipping Costs and Ordering Information
CDT-4 Frequently Asked Questions
ScoreTronics Inc., Toll Free (888) 456-1970

ScoreTronics scoreboards and displays are proudly made in the USA.

ScoreTronics Home Page | Get One at No Cost